---
RentChirp: Find Great Deals

Internship Case Study, Summer 2020
Over the summer of 2020, I worked as UI/UX Designer at a startup company RentChirp. Joining the design team, I worked closely with Co-founders and engineers and many other UI/UX designers, markerters. I was responsive to the overall website design of the product.
Type:
UI/UX Design


Responsibilities:
Interface Design
Prototyping

Timeline:
July–September,2020

---
UX Research
Who is our target users

Define and prioritize who our users are, what our users need, and why the user needs the product.
Background


Uderstanding the business goal and competitors


Leveraging what we've learned from competitor companies and user reviews, our market research team identified potential trends which have not highlighted relevant issues about price visualisation and forecasting of future rent trends. Our goal is using algorithms to provide better price analysis and prediction.




What we know about our users
Comparing between prices and facilities takes time and effort.
It is difficult to decide when to move in due to the uncertainty of future prices.
House prices are updated from time to time, it is easy to miss low prices.
UX Research


How can we solve the problems with actionable features


Collaborating with the engineer and market research team, we did a lot of brainstorming about different solutions, problems, and plans on the approach of designing the user flow, experience and interface. Finally, we summarized 4 features based on RentChirp's machine learning to solve the user pain points.



---
Sketch & Wireframes
Sketching and wireframes allowed me to gain an intimate insight on what layouts will work. I brainstormed and sketched various wireframes mostly for city page and Dashboard to propose main features.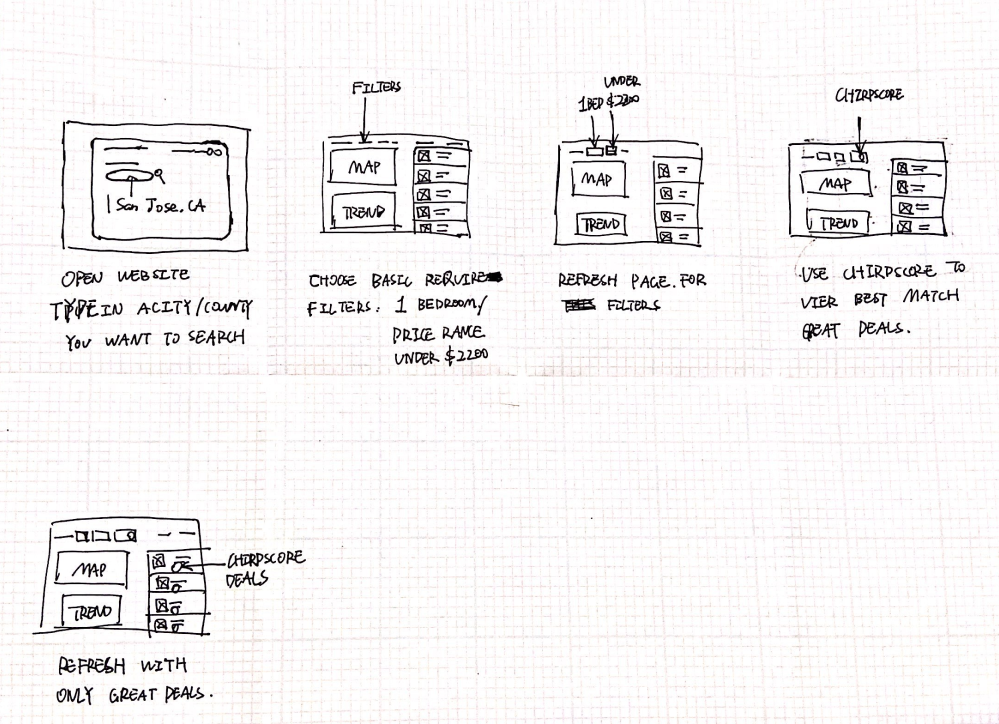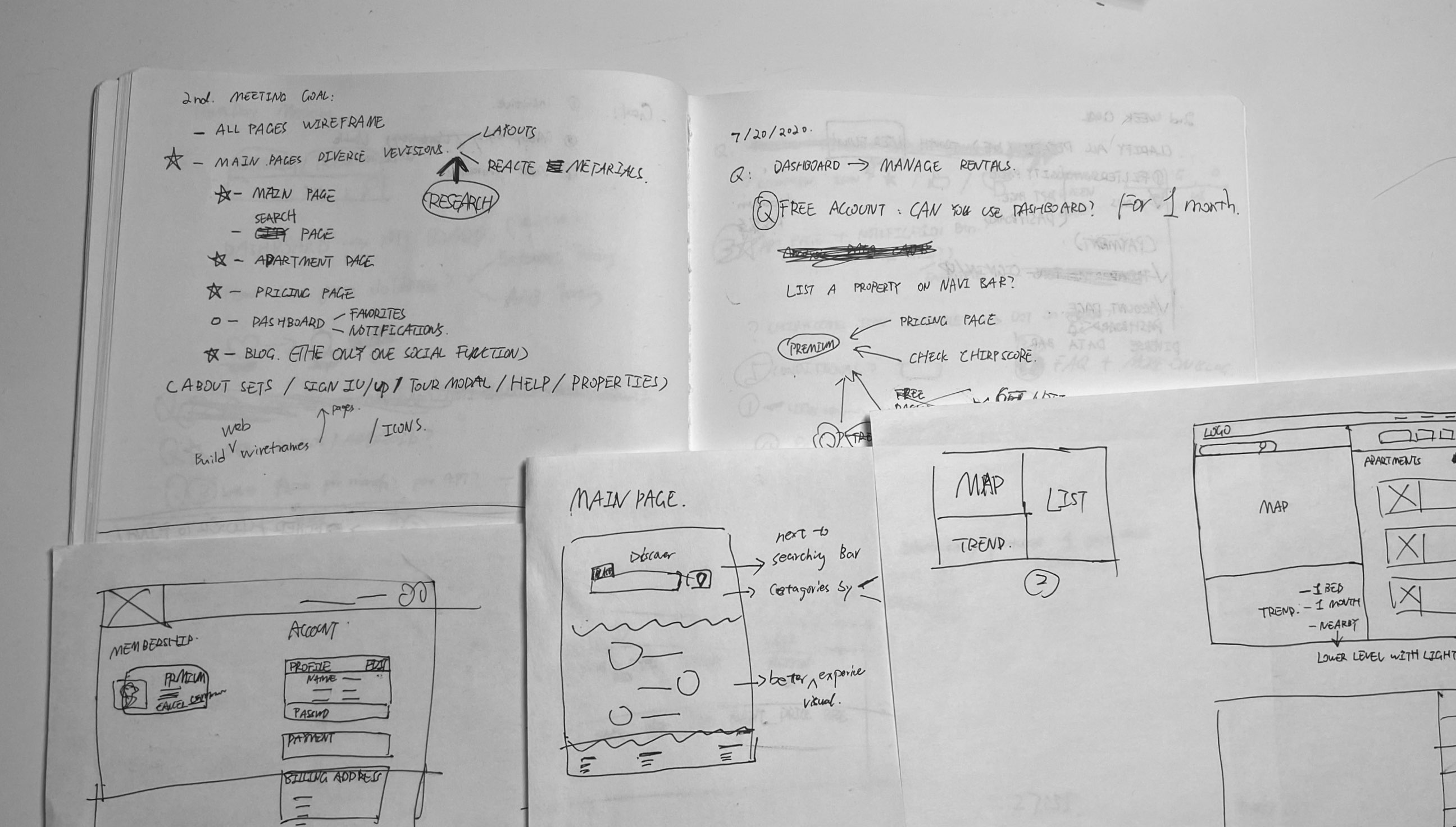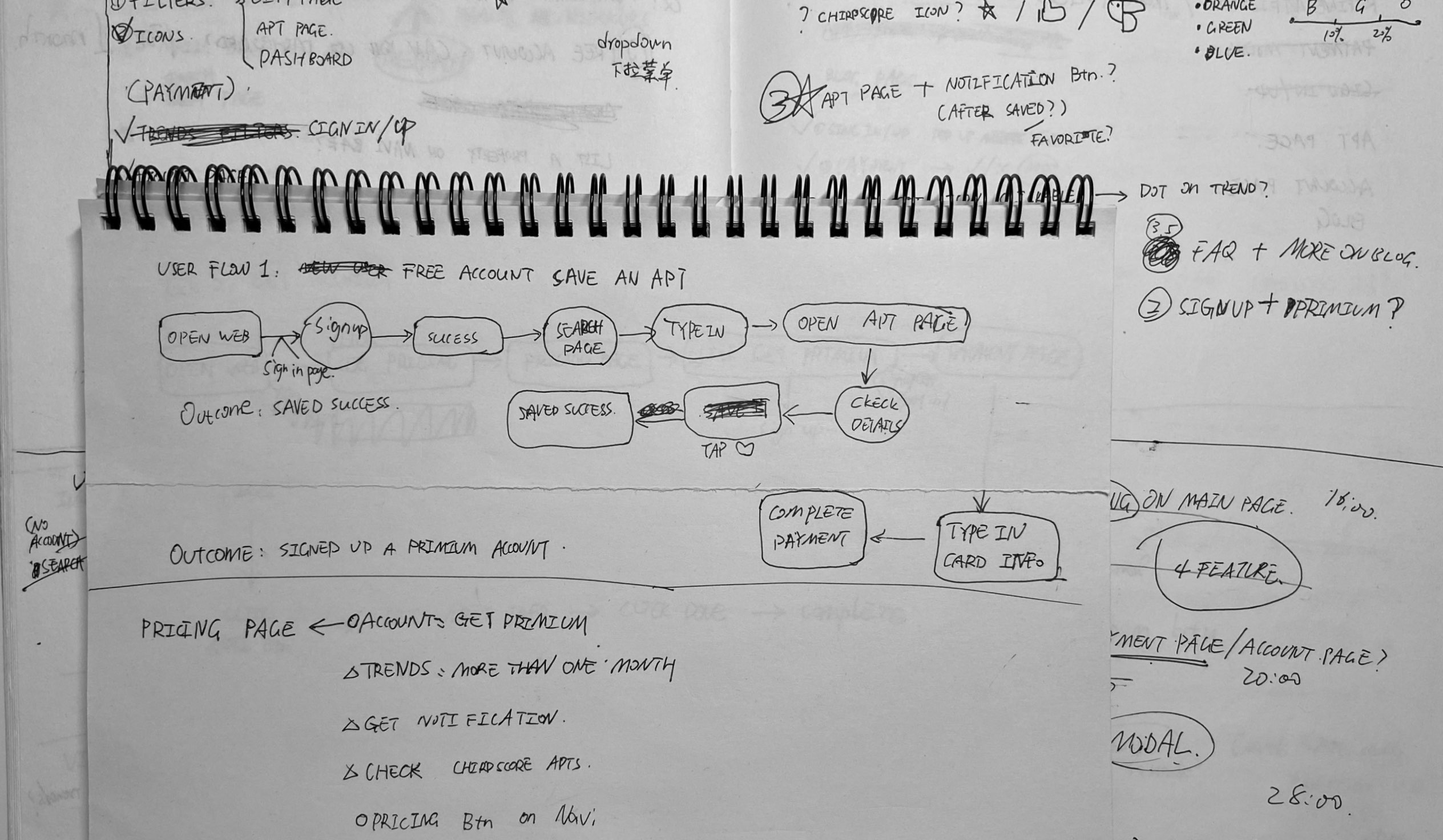 Use Case 1:

Searching apartments Filtered by ChirpScore
ChirpScore is an evaluation model as a filter to determine apartment market values and finds deals.
When searching apartments, filter to see only the good deals. In apartment details page, you can see which floor plan is valued.
Use Case 2:

View rent trends and forcasting for Favorite apartments

Rent Trends can be viewed on different pages to easily compire prices and see where the market is going. However, Forcasting is only for favorite apartments in 30 days.
View Rent Trends and Forcasting in Favorite page to compire prices for saved apartments filtered by 1 bed.
Use Case 3:

Set up a notification for one apartment

Set up notifications when your favorite apartment matches your desired price or get it weekly.
Set up a notification below $2400 for one saved apartments in Favorite page. You can manage all notifications you set and history tracks in Notification page.
Iteration of components
During my high fidelity design, I did several stages of testing, I had learned about the product's weakness that are needed to be more mature. I developed the structure by iterating components.
Style guide

To help make more informed design and product decisions, I created a design guide of RentChirp website, which includes Typography, color, and the design ui components.
---
What is the next step?


RentChirp website will be launched in the next few months, and all design assets were left for use in further productions.

Overall, This Internship was a great experience in navigating ambiguous design problems and visualizing data analytics. Due to COVID-19, having to work remotely with co-founders, engineers and design team is a new experience for all of us, but eventually we worked out.